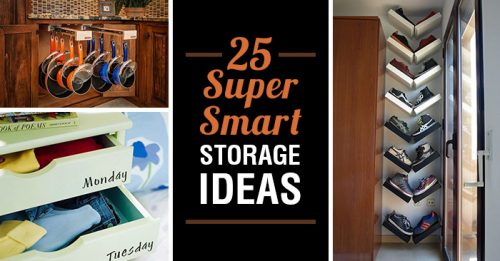 25 Super Smart Storage Ideas
As summer winds down it's the perfect time to get your house into back-to-school shape! Here are some refreshing and unique ways to improve your storage around the home. These tips are organized by room. We hope you find something useful!
---
FOR THE KITCHEN
---
1. This appliance lift is an easy way to manage space and convenience for big items in your kitchen.
2. A slide out rack can smooth over your pot and pan storage.
3. Faux drawers are a waste of space. Make them useful with some functional, pull out drawers.
4. You can't get much more functional with storing an IKEA ironing board than this.
5. You can store bread and root vegetables at room temperature. Drawers like these are easy ways to store them out of sight, and keep pests off.
---
BATHROOM
---
6. You can store your hair tools in a specially made drawer, like this one.
7. Does your sink just not have enough room? A simple sink shelf can do the job.
9. Tired of having your toilet brush and plunger limiting the appeal of your bathroom floor? Utilize the negative space in your wall with a Hy-dit cabinet.
---
BEDROOM
---
10. Store that dog bed away easily with a platform bed drawer.
11. Keep that smelly footwear safely tucked away in this lovely ottoman.
12. Have that special TV you need to safely hide away when not in use? Learn more about this table here.
13. See how The Girl on the Go hides her jewelry behind a full length mirror.
14. Put shoe store displays to shame, like a' so.
15. What are tonka trucks if not a young (very) man's tools? It only makes sense to store those and other manly toys on pegboard.
16. Always in a rush to get your kids to dress themselves in the mornings? Some well labeled drawers can help.
17. You can never have enough organization with kids.
These thin closet shelves for books and small toys are great for keeping things out of sight, while leaving plenty of closet space to use.
18. For the OCD, future architects among us.
---
OFFICE
---
19. Are you a photography buff? This kickstarter project has a genius lens rack that is just calling out for you.
20. You can use this cord hub to make power strip and cord storage so much more efficient.
---
GARAGE
---
22. You'll be thanking Popular Woodworking for this amazing tape storage DIY.
23. Who knew towel racks could be repurposed as trash bag holders?
24. Your wee ones deserve a garage too! It's easier to construct than you might think.
25. This genius pegboard system is something any handyman could use. Learn to make it here.