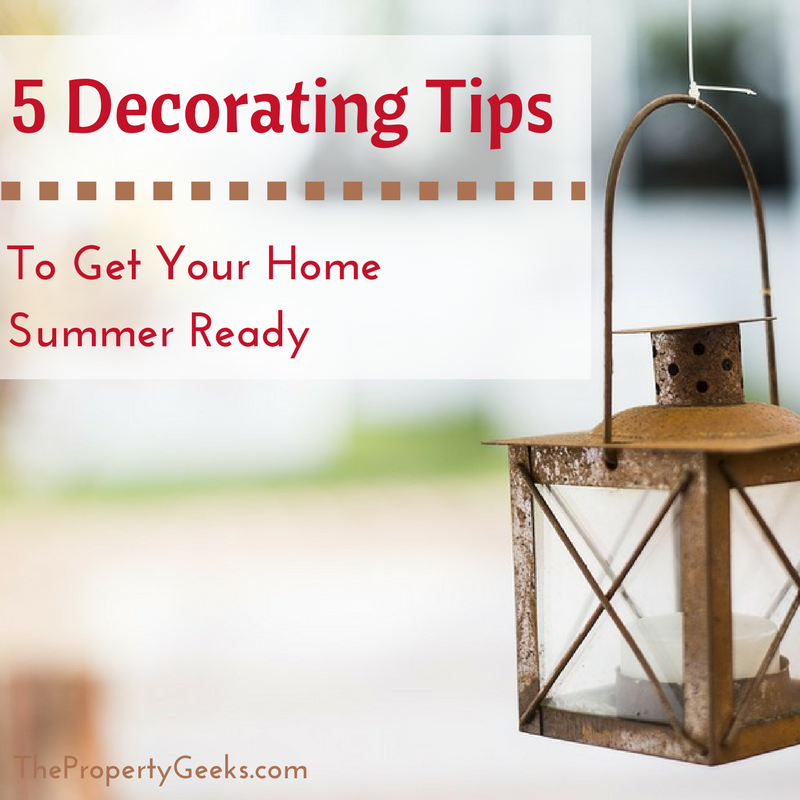 5 Decorating Tips to Get Your Home Summer Ready
Summer is one of the best times of the year. The days are longer, the weather is warmer, and the mood is more fun and cheerful. And if you want to make that fun summer mood part of your everyday experience, you need to bring that summer feeling inside the home.
The changing of seasons is a perfect opportunity to switch up your decor and give your home a new, fresh feel – and summer is no different. Before summer is in full swing, you'll want to take full stock of your decor and look for opportunities to change your style to reflect the mood of the summer.
Here are five decorating tips to get your home ready for the summer:
1. Ditch the dark
Dark, deep colors like burgundy are a great fit for the colder months, but when the temperatures start to rise, they can feel out of place in the sunny weather. When the weather starts to get warmer, ditch your darks and replace them with light, summery tones that are a better match for the season.
There's no need to completely overhaul everything you own; they key is to bring that summer lightness into each room. If you have dark furniture, lighten them up with lighter toned pillows or a throw. Repaint darker rooms to create a lighter feel or, if you want to keep your walls the same color, use art to lighten up the space.
2. Bring life to your rooms
There's no better time to incorporate fresh flowers and greenery into your home than in the summer. Nurseries and farmers markets are full of fresh, seasonal flowers and plants, and they're an easy and affordable way to liven up your kitchen, backyard or any room in your home.
Put a bouquet of fresh flowers on the nightstand to add an elegant touch of summer to the bedroom. Line the path leading to your front door with seasonal potted plants to add summer-centric curb appeal. Hang a few plants in your kitchen for a refreshing ambiance while you cook your summer dishes.
3. Create a bar station
Summer is a great time for BBQs, which means you'll likely be whipping up summer cocktails to go along with your dishes. A bar station is a great way to keep all of your summer cocktail ingredients organized and adds visual interest to a patio or dining room.
You can either buy a bar cart or re-purpose an unused table. Stock the station with alcohol bottles, mixers and garnishes (don't forget to include options for friends or family who don't drink!). Arrange the items in a visually appealing way and string lights across the top to add ambiance for late night cocktails.
4. Create an outdoor space
During the colder months, you were likely happy to spend the majority of your time indoors. But as the temperatures rise, you and your family will likely be tempted to get outside and spend as much time enjoying the sunshine and lovely weather as possible. But if you don't have an outdoor space to enjoy, it can be difficult to spend as much time outside as you'd like.
Redecorate your patio and make sure there's plenty of seating options for your family and friends. Add a few comfy chairs to your front porch so you can sit and enjoy the sunset. Landscape your property to ensure it's primed and ready for your summer guests. The more effort and thought you put into your outside space, the better you'll be able to enjoy your outdoor time this summer.
5. Fill up your fireplace
Chances are, your fireplace isn't going to see much action this summer. So why not use the warmer months as an opportunity to step outside of the box and use the interior of your fireplace for decor?
You can fill your fireplace with anything that adds visual interest, like flowers, pieces of decor, a sculpture or even a painting.Using your fireplace in this way adds an unexpected and sophisticated design touch that will quickly become the conversation piece of your living room.
With these five tips, your home will feel ready to take on all the summer months have in store. So get decorating and get outside to enjoy that sunshine!