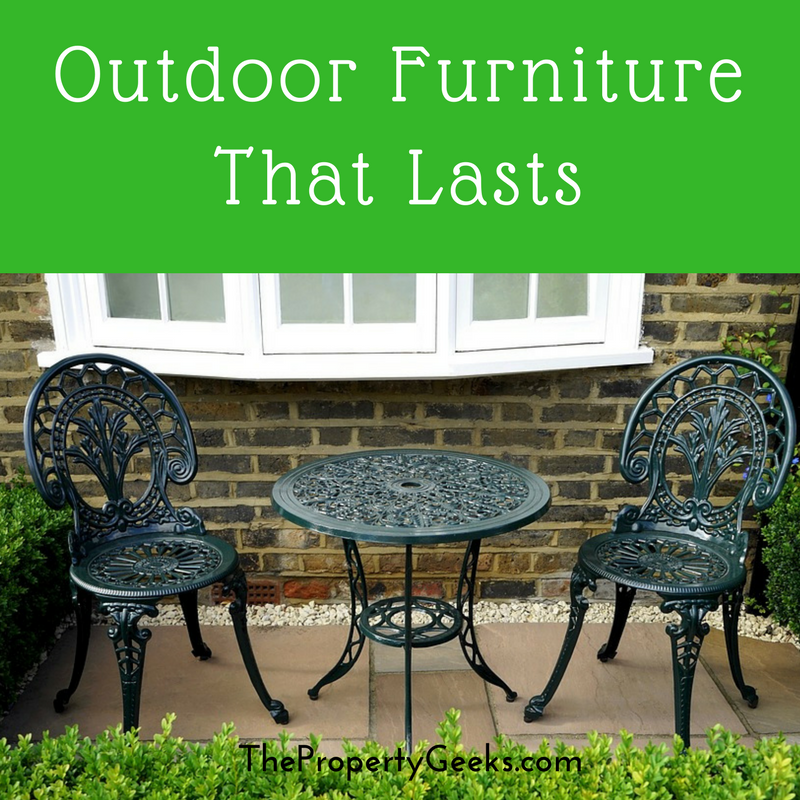 5 Types of Outdoor Furniture That Lasts
As spring turns into summer, one of the first things you'll do is get the patio furniture out of storage, grab the cushions, and get ready for some R&R. But what if you grab that furniture and hmmm…it doesn't look nearly as nice as it once did. Well, you're in luck because today there are dozens of choices for new outdoor patio furniture that will have your outdoor living spaces looking and feeling cozy and welcoming for both you and your guests.
Your choice in outdoor furniture is important, as you probably spend a lot of time on it during the summer months. It makes sense, then, to choose comfortable styles and fabrics, while still keeping in mind the care and maintenance needs of furniture. The first thing you should do is think about how you use your outdoor areas. Do you hold big parties for many people, or do you have more small, intimate cookouts? Do you do most of your cooking outdoors during the summer? These are important questions to ask when you're considering new furniture purchases.
Below we have categorized a few of the most attractive choices for patio furniture, both by aesthetics and by their ease-of-maintenance. Use this as your guide when you go shopping.
1. Wrought Iron Furniture
Wrought iron is classic, sturdy, and timeless-looking. If you live in an area of high winds, you won't have to worry about your patio furniture blowing away. There are so many styles, colors, and designs with wrought iron that it is sure to fit your style, no matter what that might be. But don't plan to use this type of outdoor furniture if you'll be moving pieces around a lot. They are hefty and will leave marks if dragged across the deck.
Because the paint on wrought iron can chip, see if there is a touch-up paint in the same color available to purchase when you buy your set of furniture. You'll be able to use the touch up anytime you find scratches or chips, and it'll keep your furniture looking like brand new. To clean, just wipe down with a damp cloth. If deeper cleaning is necessary, wipe down with a solution of dishwashing detergent and warm water, and then rinse with your garden hose.
2. Aluminum Furniture
Aluminum patio furniture is great if you want an easy-care solution that you can effortlessly move around. Aluminum won't rust, and it's super lightweight. Choose cushions that you can easily replace, as the aluminum frame will probably significantly outlast your cushions. When you're shopping, make sure that the hardware on your furniture is rust-proof, and choose a powder-coated, UV-resistant finish. Check the welds to make sure they are seamless, and look sturdy.
To clean aluminum furniture, just wipe it down with a damp cloth. If you see scuff marks, you can very gently use a bit of Soft Scrub on a soft, damp cloth, but be careful – you don't want to scratch the finish, especially if it's shiny. And never use abrasive cleaners on aluminum. Rinse off with your garden hose.
3. Polymer and Plastic Furniture
If easy care and maintenance are what you're looking for, synthetics are where it's at. Plastic patio furniture created from recycled plastics are fantastic if you live in a saltwater environment. This furniture can't ever rust and is designed to last in difficult environments. Marine-grade polymers can also be used. They're heavy, sturdy, and have been designed to look just like painted wood. You can leave this furniture out all year round without any ill effects, and cleaning is easy with a simple dish soap and water solution and a damp cloth. Rinse with your garden hose.
4. Real Wood Furniture
The type of wood your furniture is made of is crucial if you want to avoid things like splitting, rotting, and bugs. You want dense wood such as teak or eucalyptus, or a hardy wood such as cedar. Teak and Eucalyptus are easier to maintain because they don't need to be sealed on a yearly basis, but cedar is naturally moisture- and bug-resistant.
Clean your wood furniture with a soft brush and a solution of water and Murphy's Oil Soap. Hose down well and dry with shop towels.
Use a soft scrub brush dampened with water and a mild oil-based soap, such as Murphy Oil Soap. Rinse by hosing down.
5. Cushion Fabrics
Choosing new cushions is a great way to make older furniture look new again. They can also be the most pricey part of your patio set, so make sure you choose wisely!
If price is no object, look for fabric designed for outdoor use that is UV-resistant, as well as resistant to moisture, mold, and stains. And bring your cushions indoors when you're not using them – you'll get much more life out of your investment.