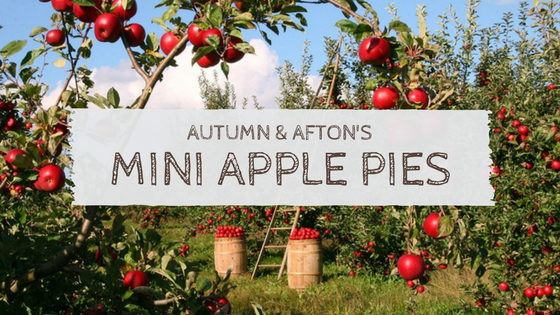 Autumn & Afton's Mini Apple Pies
School has started and around here that means two things… football season is upon us and it's time to head to the apple orchards. Luckily, we're surrounded by fantastic options for both. Lakeville is home to two stellar high school football programs – the Lakeville North Panthers and the Lakeville South Cougars. We'll talk about the rivalry between them next week.
We've also got more than our fair share of apple orchards in the area. A couple of our favorites are right down the road…
Applewood Orchards has pick-your-own apples, raspberries and pumpkins and even hayrides on the weekends. According to their website they're already well into the 2017 harvest and ready for visitors to the apple orchard and corn maze.
Thompson's Hillcrest Orchard is just south of Lakeville in Elko, Minnesota. They've began planting in 1996 and now grow 10 varieties of apples on more than 1100 trees. They sell pumpkins, gourds, pies, jams, and pre-picked apples in addition to offering pick-your-own.
Nelson's Apple Farm in Webster offers over twenty-five varieties of apples, either pre-picked or pick-your-own. Their gift shop offers unique specialty food items including the famous Apple Dandies served piping hot. On weekends they have hayrides and their resident goats are always up for visitors and a photo opp or two.
For more local orchards, check out Local Harvest.
Once you've got your apples, you need to know what to do with them! One of the girls' favorite recipes is homemade Mini Apple Pies. Autumn and Afton did a great job demonstrating and the full recipe is printed below:
Autumn & Afton's Mini Apple Pies
Ingredients:
1 pkg Ready Made Refrigerated Pie Crust
2 Large or 3 Medium Apples
1 Stick of Butter (plus extra for greasing pan)
Sugar
Cinnamon
Nutmeg
Instructions:
Preheat the oven to 450 degrees. Grease a standard cookie sheet and set aside.
Unroll pie crust onto a clean surface then slice in half so you have two half-circle pieces from each crust. Let it come to room temperature.
Peel, core and slice the apples. (The thinner the slices, the better.)
Cut sticks of butter into thin slices.
Move a half-circle of dough onto the cookie sheet.
Assemble pie by layering apples, a few pats of butter, a generous (about 1 TBSP) spoonful of sugar, a sprinkle of cinnamon and a sprinkle of nutmeg.
Fold dough over the top of the apple stack, enclosing the filling.
Sprinkle sugar and cinnamon over the top.
Bake at 450 degrees for 5-10 minutes then lower the oven temperature to 350 degrees and bake for an additional 30-40 minutes.
Enjoy!!!
We hope you enjoy the pies. For an extra special treat, try them with vanilla ice cream on the side! What are your favorite apple recipes? Please share with us in the comments!