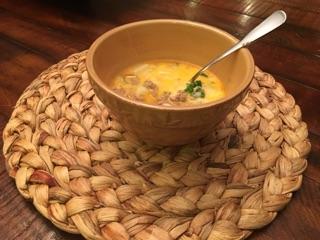 Theresa's New Tradition – Zuppa Toscana Soup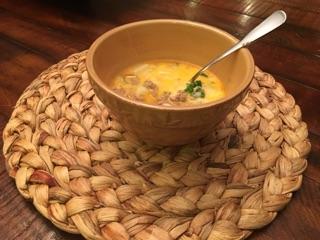 Property Geek Theresa has a new favorite recipe — perfect for the cold December days and long winter nights ahead of us in Minnesota.  Her daughter, Lauren, originally made it in her Culinary Arts class but they've adapted it a bit and it's become a new family favorite… a copycat recipe of the Olive Garden's delicious Zuppa Toscana soup.
The original link to the recipe and directions can be found on Delish.com.
First, gather all of the ingredients…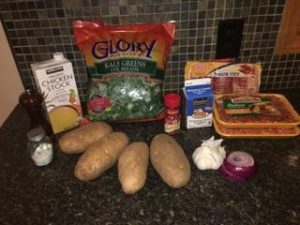 Next, you'll brown the sausage then drain it.

Chop the onion and garlic, then add the onion to the same pan, cooking until it's tender and translucent.
Potatoes are next. You don't even have to peel them, just dice them and toss them in.


Smells delish already, doesn't it? Now add the chicken broth and relax while the stove top does the work for a bit.

Now add your power veggie… kale… and let it cook until the leaves are nice and tender.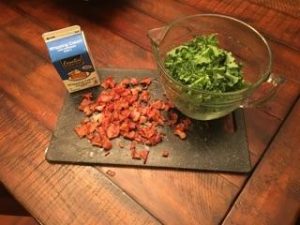 If you've stuck with us this far, you're about to be rewarded. Final step, mix in the cream and bacon. Only a few more minutes to go.
Garnish and enjoy!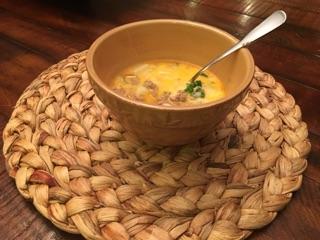 Thanks Theresa and Lauren (pictured!) for sharing your new family favorite with us!

Ingredients:
1lb Italian Sausage, browned & drained
1 Large Onion, chopped
3 Cloves Garlic, minced
Salt & Pepper
6 Cups Chicken Broth
4 Large Potatoes, diced
1 Bunch Curly Kale, diced
3/4 Cups Heavy Cream
4 Slices Bacon, cooked & chopped
1/4 Cups Parmesan, grated
Directions:
Brown the sausage in a large pot, then drain.
In same pot, add the onion, letting it cook over medium heat until it softens.
Add the garlic and cook for one more minute. Season with salt and pepper.
Add chicken broth and potatoes and simmer until potatoes are cooked through and tender, about 25 minutes.
Stir in kale and cook until leaves are soft, about 3 minutes.
Add cream, sausage and bacon. Simmer an additional 3-5 minutes.
Season with salt and pepper to taste. Garnish with freshly grated Parmesan and serve while hot.
The soup is hearty and filling and makes a meal all by itself. But Theresa likes to serve it with bread sticks and salad on the side. She also suggests making a double batch since it tastes even better the second day!
What are some of your favorite winter recipes?