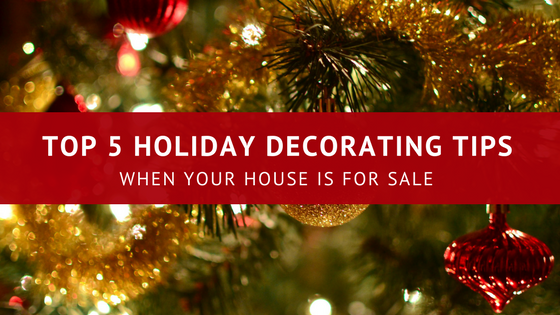 Top 5 Holiday Decorating Tips When Your House Is For Sale
We get asked this question a lot… "Should I still decorate my house if it's for sale over the holidays?"
The short answer is yes, of course. Your home may be for sale, but you're still living in it and should be able to celebrate whichever holidays your family holds dear. But… we do have some advice to offer if you don't want to put off a potential buyer who doesn't quite embrace your level of Ho-Ho-Ho. Here are our top 5 tips:
1 – Whether you're going all out with a huge tree, snowglobes on every surface or just putting a few things up around the house, try to coordinate colors and themes if at all possible. In a perfect world you'd have color-coordinated ornaments, a tree full of sparkling clear lights and stockings to match. Think the best of Seasonal Concepts. But… the ornaments the kids painted in Kindergarten and the stocking your daughter crocheted when she was eight are some of your favorite items. We get it. The goal is to be festive without being too cluttered or too personal.
2 – Watch the breakables. This might not be the year to set our your great-grandma's heirloom nativity set. Families may be coming through with small children. If you have to put family treasures out, make sure you put them out of reach of small hands.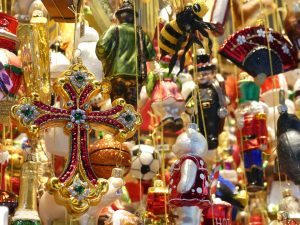 3 – For outdoor decor, you're not going for a Griswold family Christmas. No friendly competition with the neighbors or contests to see who can fit the most reindeer on the roof or inflatables in the front yard. White lights are best, but even if your family tradition calls for the multi-colored ones, just keep it simple. And keep the extension cords to a minimum. You don't want a prospective buyer tripping over something you've strung across the sidewalk.
4 – Make sure your home looks, smells and feels welcoming. During these colder months, the sun can dip behind the horizon well before dinnertime. Keep things cozy by shoveling the driveway, salting the walk and turning the thermostat up so buyers don't enter a cold home. And nothing says home for the holidays better than the smell of something fresh out of the oven. Fake a fresh-baked apple pie by simmering some apple cider with cinnamon in a slow cooker on low.
5 – A little effort can go a long way when showing your house over the holidays. Leave bottles of water, Christmas cookies or a bowl of candy canes on the counter when you know someone is coming through. The buyers will appreciate the thoughtfulness and special touch.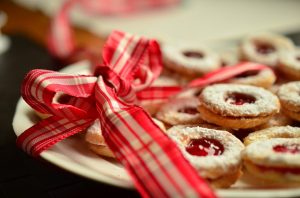 If you need help deciding if you've got too much holiday spirit showing, ask a neighbor or your realtor to take a look. Often times their first impression will differ from yours, providing some much needed perspective on your level of holiday cheer.
With a little extra effort and a lot less decor, there's no reason why you shouldn't enjoy the season, even when you've got your house on the market.
Happy Holidays!