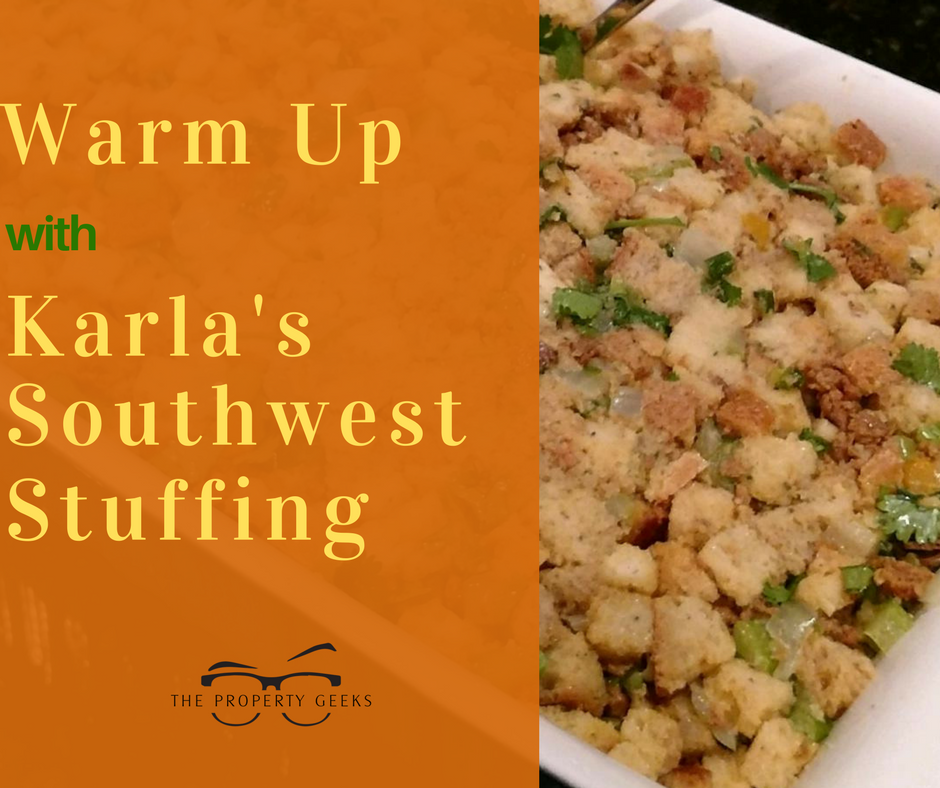 Warm Up with Karla's Southwest Stuffing
Feel that chill in the air? Fall is hurtling by quickly and winter is coming in cold. The proof is in the stuffing–Thanksgiving is only two weeks away!
Thank goodness Property Geek Karla has a cure-all to beat back that brisk snap in the air, and she's sharing it with all of us today. She said she started adding this Southwest Stuffing to her Thanksgiving menu about ten years ago and now her family won't let her through the door unless she brings it along. They love the twist on the traditional stuffing recipe. The jalapeno provides a bite of heat and the chorizo sausage and cilantro give it just the right southwestern zip to clear the sinuses and keep the cold at bay.
If you're looking for some extra sizzle and spice to add to your holiday, we hope you'll give it a try!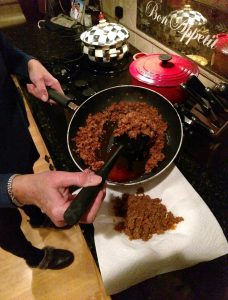 First, saute the sausage. It gives the stuffing that extra kick.

How can something with so many vegetables be so tasty? Just don't mind that stick of butter hiding underneath all that green.

The mixture of broth and eggs provides the rich moisture that holds the whole dish together.
Almost ready! Just an hour in the oven to bake all that spice together.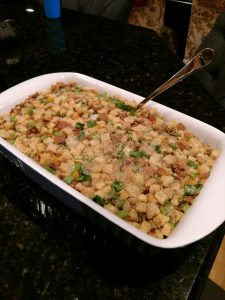 Ta-da! Looks good enough to be a meal all by itself.
Southwest Stuffing
1 lb bulk Chorizo Sausage
1/4 cup Butter
1 cup cubed Butternut Squash
1 large Onion, diced
8 Green Onions, chopped
2 cups chopped Celery
2 Jalapenos, seeded, deveined & minced
1 cup Cilantro, finely chopped
2 TBSP fresh sage, chopped
24oz Cubed Stuffing Mix
3 Eggs
32oz Chicken Broth
Preheat oven to 350 degrees.
In a large saucepan, sautee chorizo sausage. Drain fat and set aside. In same pan, melt butter, add onions, squash, celery, green onions and jalapenos. Saute until soft. Add cilantro and sage.
In large bowl, add stuffing mix, sausage, and onion/celery mixture.
In separate bowl, beat the eggs with the chicken broth and pour over stuffing mixture. Toss well.
Butter a large casserole dish and foil for covering.
Spread stuffing into casserole dish, cover with foil and bake at 350 degrees for 45 minutes.
Remove the foil and bake for an additional 15 minutes.
Enjoy!