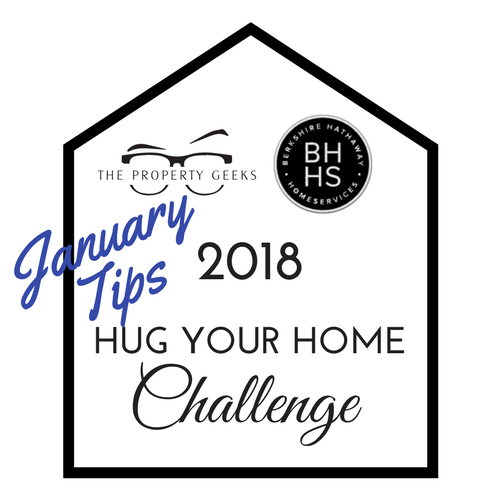 If you've been keeping up with The Property Geeks you've probably heard us talk about the 2018 Hug Your Home Challenge. It's a chance for all of us to stick together through a year full of home maintenance tips and tricks. If you haven't signed up, there's plenty of time. Join in here! For those of you following along, we're working through January's list right now. It's full of exciting things like "Clean Your Ceiling Fan Blades" and "Touch Up Interior Paint." If you're like us, you know those things are important to do, but not exactly the most desirable way to spend an hour of free time. We've got some tips here on how you can knock off a good portion of our checklist as quickly and easily as possible. Let's start with the dreaded garbage disposal…
"Ooooh, What's that smell?"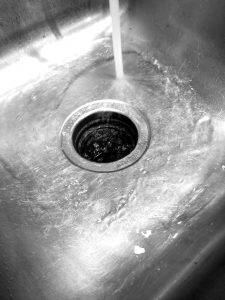 Ever notice a funky little smell drifting up from your kitchen sink? Maybe it's that tuna melt sandwich you just put down the drain. Or maybe it's time to show your hardworking garbage disposal some love. There are many ways to clean the garbage disposal and if you do a quick search on Pinterest you'll be bombarded with options. Our best advice comes from Property Geek Karla who suggests the following:
Slice up a lemon and send it down the disposal.
Follow that with a cup of ice.
Next, measure out a cup of vinegar and pour it down the sink.
Presto! You've got a sweet-smelling disposal.
"Don't Hit a Wall with the Walls!"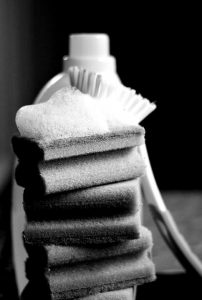 Do your walls and baseboards have a magnetic-like attraction to dust and grime? There are several different ways to fight back, depending on the level of effort you want to put forth. Here are a couple of ideas:
Dust your walls with a microfiber mop.
Mix up a batch of ammonia and water then wipe down the walls and baseboards with a damp cloth.
Use a Magic Eraser for stubborn stains or marks but be careful — it might remove the paint finish.
Use a toothbrush or cotton swab to get into the corners and tight spots on your baseboards.
To cut down on future work, run a dryer sheet over your baseboards. It will repel dust.
"Shower your Shower Curtain with Love"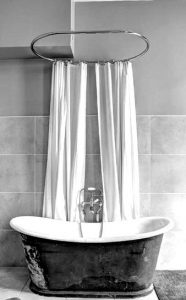 Do you ever get the feeling it would be better to go with a gray shower liner instead of battling the mildew that collects on that once-pristine white one? The battle against mildew and mold can be won. Just wash your shower curtain with salt. Salt? Yep. Regular table salt will do the trick. Here's how:
Toss your shower curtain, liner and a couple of towels into the washing machine.
Use 1/2 the amount of detergent and toss in a cup of vinegar or use the regular amount of detergent with 1/2 cup of baking soda and 1/2 cup of vinegar during the rinse cycle.
Add a cup of salt to a tub of water and soak shower curtain/liner for several hours.
Hang to dry.
No more mold and mildew!
Enjoying our tips? Sign up here for our 2018 Hug Your Home Challenge and get our annual checklist plus monthly reminders of "to-do's." You can also follow us on Pinterest where we're pinning our favorite tips. And make sure you join us at 12pm CT on our Facebook page for #GrillTheGeeks. Every Thursday we talk about home buying and selling and answer your real estate questions. This week Property Geek Karla will be talking about more home maintenance tips you can use to knock off that January checklist!